According to a Zion Market Research report, the global e-learning virtual reality market will reach approximately USD 1,478 million by 2027, at a CAGR of 42.9%, between 2019 and 2027. Simulation technologies have wide-ranging applications in various industries.
Rehearsing in safe virtual training grounds replicating real-world environments builds news learners' confidence, enhances experienced workers' skills, and elevates performance at both individual and team levels. 
Here is a look at four industries where simulation-based training helps learners practice effectively while reducing training costs and risks for the organization. 

Hospitality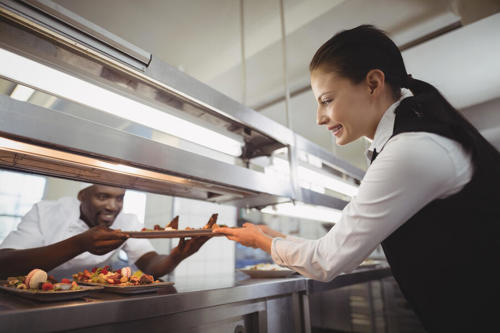 Simulation as a training tool is extremely useful in high turnover industries. It saves in-house trainers the time and frustration of onboarding, particularly during times of high, unpredictable attrition. Simulation elearning models' interactive experiences and approach of learning by doing also makes training engaging and fun, especially when it comes to dry topics like compliance or hygiene. 
Organizations in the hospitality industry can consider numerous simulation-driven training modules, including:
Food service and safety
Guest handling
Soft skills and cultural awareness
Custom courses on service experience
Managerial training for effective conversations around:
Poor performance
Sickness absence
Diversity issues
Read the research that shows why simulation-based training is vital in the hospitality industry.
eLearning modules can focus on helping staff excel at their specific job roles, across the gamut of front-desk and reservations, and sales to housekeeping and asset management. Where required, a course can incorporate gamification to encourage active participation and encourage employees to brainstorm new ideas to, say, enhance guest experience or conserve resources. 
Employees who are moving into new roles can perform unfamiliar tasks more confidently when they are able to practice the tasks in a virtual environment. For instance, an employee who will be expected to purchase utilities for the restaurant or hotel can benefit from practicing how to use a sourcing website. The learning module can replicate the look of the average sourcing website and integrate different levels of interactivity to take the user through the purchase process. The user can try to fill a sample form – with hints and feedback as necessary – to complete a purchase successfully. 
To help staff understand the impact of their daily work on their company's profitability, hotels can employ simulation elearning models that develop staff's fundamental financial and management skills; explain and test staff on key management ratios; and encourage staff to practice ideas for guest service improvement and define them for implementation. 

Aviation
 
The aviation industry faces unique training challenges. The pressure to keep costs low, boost operational efficiencies, avoid on-the-job health and safety related incidents, and equip pilots with new technology skills, means that aviation training must employ a mix of highly effective methods. Simulation elearning is among the training approaches that can improve learning and address risks in a meaningful way. 
Learners can be made aware of emergencies and other life-threatening situations
New hires can gain basic information about the company's operating procedures, policies, guidelines and restrictions
In the event of legal disputes, training attendance can serve as evidence that the company has informed employees about laws and policies
As simulation-based learning is also time and cost efficient, online training modules using simulation have come to cover various areas of aviation training, including:
Flight simulation
Scenario-based training
Cabin safety training
Engineering training and apprenticeship on aircrafts
Customer service training
Compliance training 
Although automation and new technologies have reduced pilots' workload, fundamental flying skills and airmanship continue remaining critical. A pilot's main task is to anticipate and avoid any potential problems. A combination of good manual flying and flight deck management skills can be honed through training sessions that employ scenario-based simulations. In fact, simulation elearning modules can be created around all major skills categories, from navigation and safe landing, and situation awareness to exerting effective managerial control (for the captain), prioritizing and sequencing workload, and promoting a positive interpersonal and group climate. 
Read how you can 'kill' human error with scenario-based training.

Customer service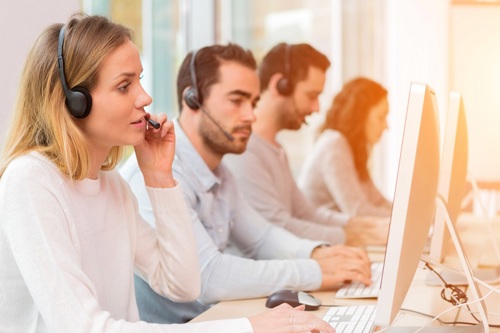 Customer service is a mission critical role for any organization, whether it's a receptionist or call centre agent or any other client-facing employee, excellent performance is vital for customer retention. The client wants a good impression at their first point of contact with the organization in particular, but also at every other level of contact too. Therefore, customer service directly impacts the business's bottom line. Simulation based training is a vital tool to ensure that staff are effecitvely trained and equipped to handle any scenario.
Studies show that 95% of customers share bad experiences and 87% share good experiences with others via social media and web review sites, so no business can afford to have inadequate customer service.
Research shows that effective training also: 
reduces staff turnover

reduces mistakes by staff
speeds up call-handling times
improves comunication
speeds up problem-solving abilities.

Banking and financial services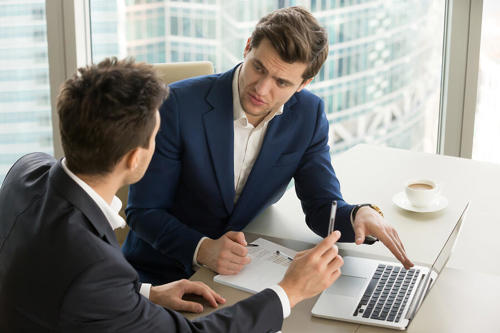 In the competitive and highly regulated banking and financial services industry, organizations can improve the effectiveness of their compliance, process, sales and technical skills training with the right simulation elearning tools. 
Onboarding: Realistic simulations of processes and products can drive better learning outcomes among new hires, enabling them to hit the ground running better than traditional training methods. 
Skill development: Sales training for relationship managers and financial advisers; new product knowledge for sales teams; soft skills training for customer support staff; technical skills training on new software, financial applications and mobile apps. 
Compliance training: Useful in understanding how risks are categorized, quantified and managed, based on specific job roles. Scenario-based learning works very well in gearing training to relevant job roles. For instance, new teller hires must be aware of when to place holds, customers' right to stop payment and money laundering reg flags. Courses intended for the C-Suite can dwell upon the skills and expertise of top-performing leaders and boards. 

Healthcare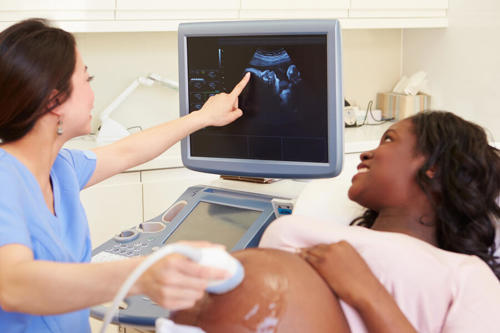 Healthcare organizations can leverage elearning simulations to:
Optimize training times for junior clinicians
Provide additional training to staff
Support continuing education goals
Practice both routine and challenging procedures to reduce error
The first recorded use of a medical simulator dates back to the 17th century, and is that of a manikin created by Dr. Gregoire of Paris. He used a pelvis with skin stretched across it to simulate an abdomen, and with the help of a dead foetus, explained assisted and complicated deliveries to midwives. 
Educational simulations today are life-like and deliver engaging, immersive learning experiences. Healthcare organizations are using simulation elearning to meet a variety of training goals:
To facilitate a better understanding of abstract physics and molecular concepts
Train nurses to improve critical-patient care 
Improve CPR performance in paramedics
Build proficiency in key areas of:
Patient-centered care
Performing as an inter-disciplinary team
Employing information technology
2D and 3D simulations of surgical procedures help improve clinical judgment:
A 'Show Me' option allows learners to view an animated demonstration of each step in the procedure
A 'Try Me' option allows learners to select the right surgical tools
Guided hints provide feedback and help learners address mistakes
Read more about how simulation-based training supercharges healthcare education.